Building Local Prosperity Week: Charlotte Caldwell
Date posted
October 16, 2018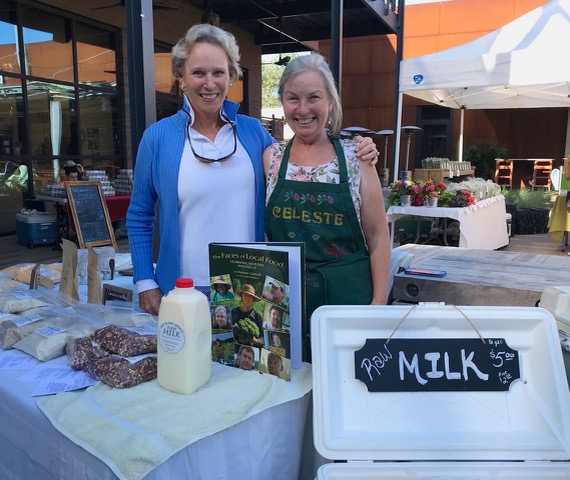 "I didn't have a deep understanding of the value of eating local until I got to know women and men who represent local food everywhere. Through the inspirational stories they tell in The Faces of Local Food: Celebrating the People Who Feed Us, they have forever changed my life. I now understand local foods' benefits to the environment (by avoiding the fossil fuels used when shipping food thousands of miles), the health and nutritional benefits to our bodies (by eating freshly harvested food), the financial benefits to our local family fishermen and farmers (who do honorable work and deserve an honorable wage!), and the economic benefits to the entire community (by keeping the majority of our dollars in the local community).
As an enlightened consumer, I now realize that how I spend my dollars has ramifications far greater than merely making a purchase—my dollars are sending a message that I support and want to continue the way that food (and other products) are produced. My food dollars are an investment in either local family farmers, who raise their animals in a humane way from birth to processing … or are an investment in a large scale industrial-food system and its inhumane treatment of animals. And just because some mega-farms may be producing "organic" meat, eggs or milk, that does not mean that those animals are raised humanely, although for a long time the picture of the cow on the carton of milk had me snookered into believing that it was raised as visually marketed. Now I seek out and find local food year-round—milk, eggs, grains, salt, fish, etc.…
Because I now understand that I'm voting with my wallet with each purchase, I try to put my dollars where my values are. What started with food purchases has evolved to other local products and services. I wish that towns nationwide were to have a non-profit like Lowcountry Local First, whose mission is "to cultivate an economy anchored in local ownership." Gratefully, they have helped shepherd us into becoming Localists."
– Charlotte Caldwell, Author, "The Faces of Local Food: Celebrating the People Who Feed Us"

At Lowcountry Local First we are building an economy that is anchored in local ownership, because we believe that local-independent businesses are the cornerstone of our culture, economy and character. We are the on-the-ground advocate working around-the-clock for our homegrown businesses – ultimately shaping the community we want.
Will you help us to continue to build local prosperity? Will you choose the Lowcountry?