Folly Beach may ban chain restaurants and stores to keep itself unique
Date posted
October 23, 2018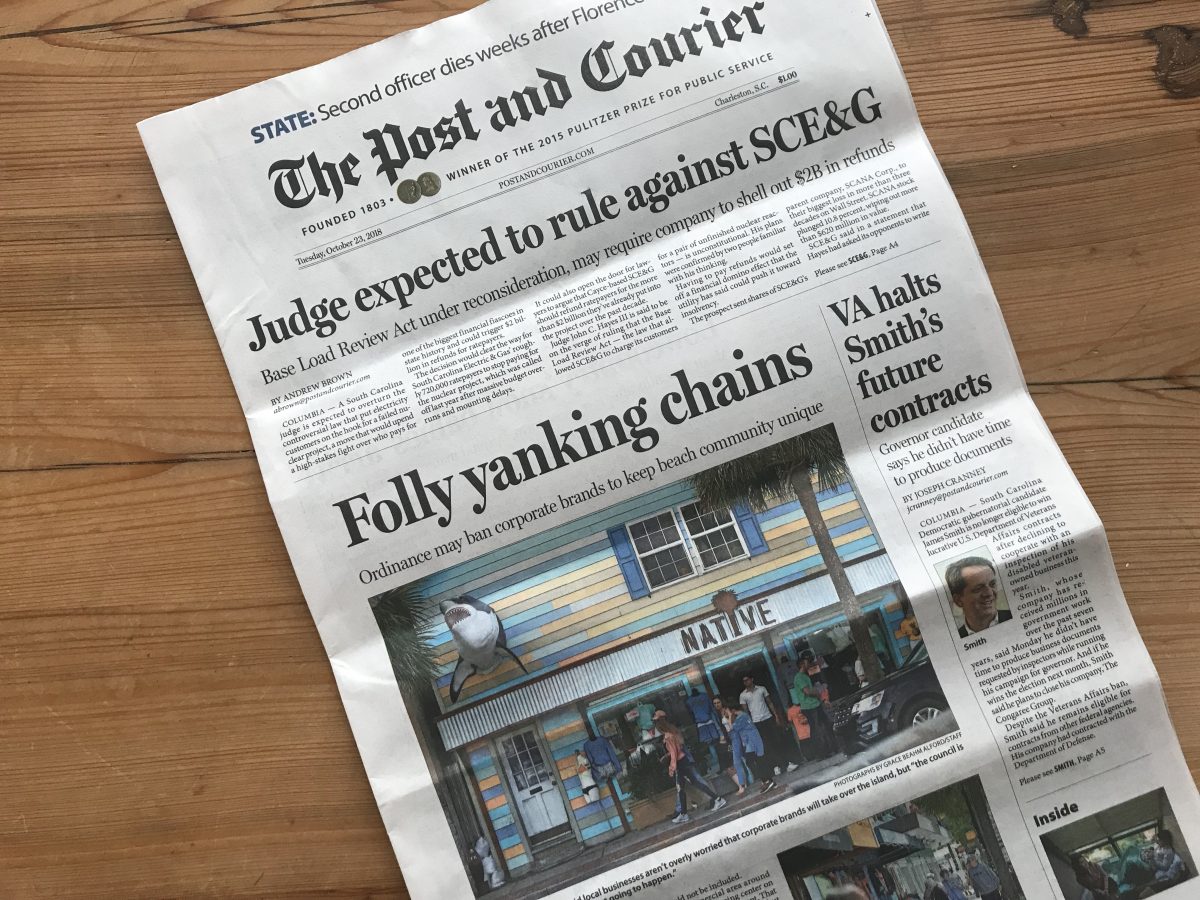 Folly Beach may ban chain businesses from the island, a rare move for a South Carolina municipality that supporters say will help protect the beach community's funky character.
The proposed ordinance already won initial approval from City Council and could take effect soon. A final vote is set for next month.
The change would prohibit any business with 10 or more locations with identical names, branding and products from opening on Folly Island.
Existing chains, such as the island's Subway restaurant and gas station, and the Tides Hotel, which might eventually be bought by a national hospitality brand, would not be included.
Also, the commercial area around the Harris Teeter shopping center on Folly Road would also be exempt. That property is within the city limits but not on Folly Island.
Mayor Tim Goodwin said local businesses aren't overly worried that corporate brands will take over the island, but "the council is just trying to make sure it's not going to happen."
Years ago, City Council barred drive-through businesses from opening on the island, so this policy fits in a similar vein, Goodwin said.
'NOT A NEW MODEL'

Lauren Gellatly, director of operations for the nonprofit Lowcountry Local First, said her group pitched the idea of the ordinance to Folly officials in February.
While it's a rare step in South Carolina, it has been done elsewhere. The largest city to have passed similar rules is San Francisco, where limits on new chains vary from neighborhood to neighborhood.
"This is not a new model," said Gellatly, whose group is focused on supporting local business ownership. At least 20 other cities across the country have enacted something similar, she added.
Sullivan's Island is the only other South Carolina municipality with a similar regulation in place. Its rule, enacted in 2014, has a smaller limit of four locations for formula businesses, and it only applies to restaurants.
It doesn't ban all restaurants of the same type with more than four locations, Town Administrator Andy Benke said, but it does limit those that are franchises, such as McDonald's, for example.
On Folly, an eclectic mix of bars, restaurants, beach-themed stores and staples like Bert's Market serve a broad swath of visitors, from local college students to families to retired corporate executives. It's the most commercial of Charleston's three closest beach communities, though the islanders who live there year-round are a tight-knit bunch.
Realistically, the vacationers in Folly's tourist market probably aren't looking for a chain when they go out to eat, said Lewis Dodson, president of the Folly Association of Business.
"We're kind of staying a little neutral on it," he said. "We're business people, we believe in business, but at the same time, I live here on Folly, and I would like to keep (the atmosphere) characteristic of Folly Beach."
NO STARBUCKS, MAYBE FOLLYBUCKS

Dodson, who owns the Drop in Bar and Deli, competes directly with the Subway, which is just a block away. Still, he said his business is fairly strong, and the off-season on the island isn't as slow as it was about 10 years ago when he first opened the restaurant.
There's been no opposition to the proposal so far at public meetings, Folly Zoning Administrator Aaron Pope said.
However, at least one statewide business group signaled skepticism about the ordinance.
"Restaurants are the backbone of South Carolina communities like Folly Beach," Katie Montgomery, spokeswoman for the S.C. Restaurant and Lodging Association, wrote in an email.
"The SCRLA believes that businesses should be reflections of their local communities and be a cohesive part of their neighborhoods. However, too broad stroke of a ban could be prohibitive to growing restaurant groups and to customers looking for diverse dining options."
Pope said the city is not trying to pick winners and losers or protect specific businesses — the ordinance is aimed at retaining the essential, unique qualities of the community. If a business that's already in Folly expands to become a chain, it would not be affected by the ordinance, Pope said.
Large corporations can still have a presence on the island if they want it, he added.
"Nothing would stop Starbucks from opening a 'Follybucks' with distinct products and uniforms," Pope said.