Lowcountry Local First's Good Enterprises Initiative hosts 2nd annual "Ready, Set, Pitch!" event
Date posted
October 9, 2023
Lowcountry Local First, a nonprofit focused on economic development centered around local-ownership, hosted its second annual "Ready, Set, Pitch!" competition on October 7, 2023 to award a $10,000 cash prize to a local entrepreneur. Graduates of the organization's 12-week La Academia, a Community Business Academy taught in Spanish, were invited to apply to the competition in August, submitting videos and pitch decks to an outside review committee. The top five entrepreneurs then received private, one-on-one coaching by Marco A. Ríos of the South Carolina Small Business Development Center (SC SBDC). The finalists participated in a live pitch event hosted by Paola Paz, radio host at Latina 95.5FM, at the Charleston County Main Library in front of family, friends and a panel of judges.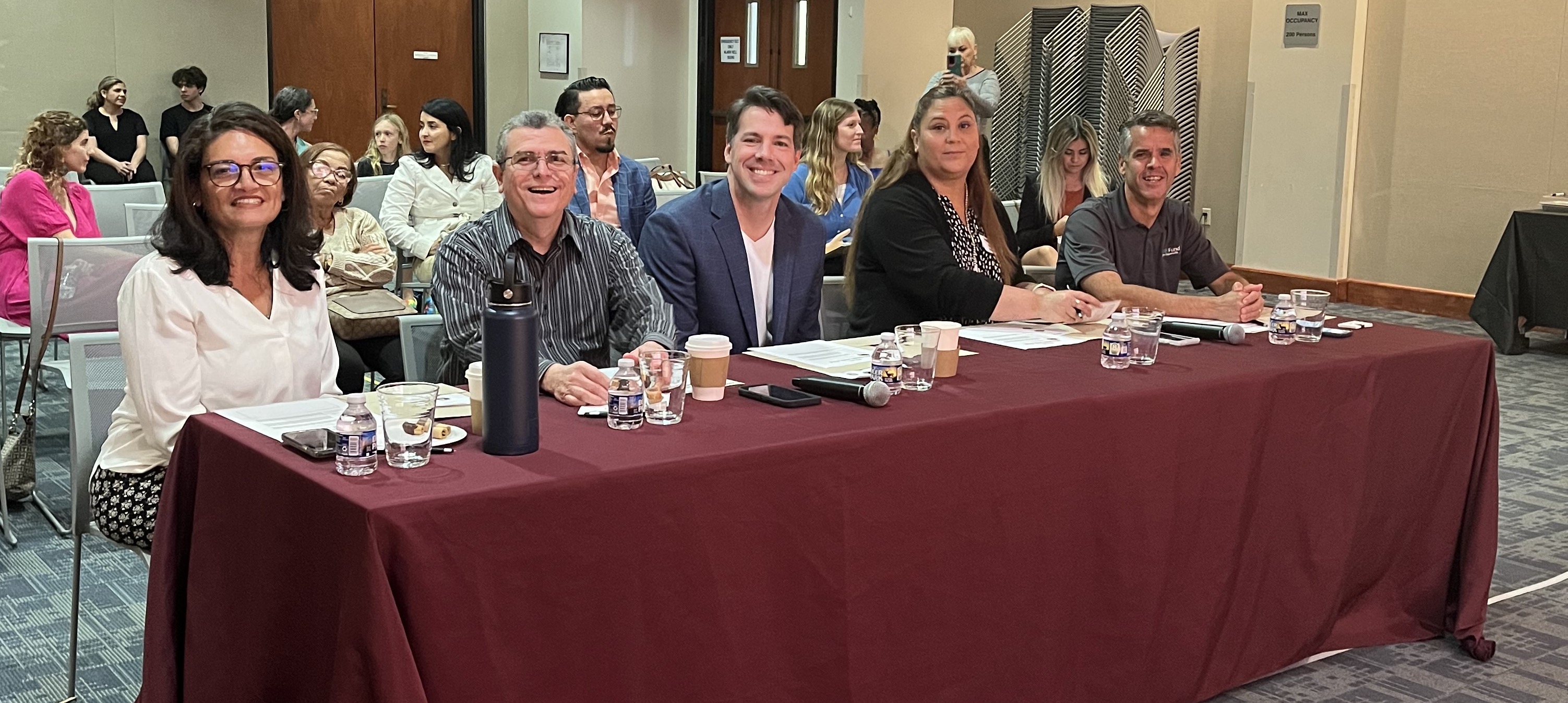 The top five competing entrepreneurs were:
- Andrea Serrano, Glossy Jewellery
- Corina Costa, Corina Costa Beauty Studio
- Marielyn Oliver, Mari Oliver Realtor
- Mario Broggi, Elena's Empanadas & Pastas
- Yugeily Prieto, Amelie Jewelry
The 2023 Ready, Set, Pitch! $10,000 grand prize was awarded to Andrea Serrano of Glossy Jewellery. Glossy Jewellery is a family-owned company that offers modern, elegant and custom jewelry. The financial prize will be utilized to incrementally grow and expand the business, allowing Andrea to expand into new wholesale opportunities. In her remarks after receiving the award, Andrea dedicated the honor to her family, including two relatives that they lost in the past year, noting how much this award would provide much-needed encouragement in what has been a challenging time.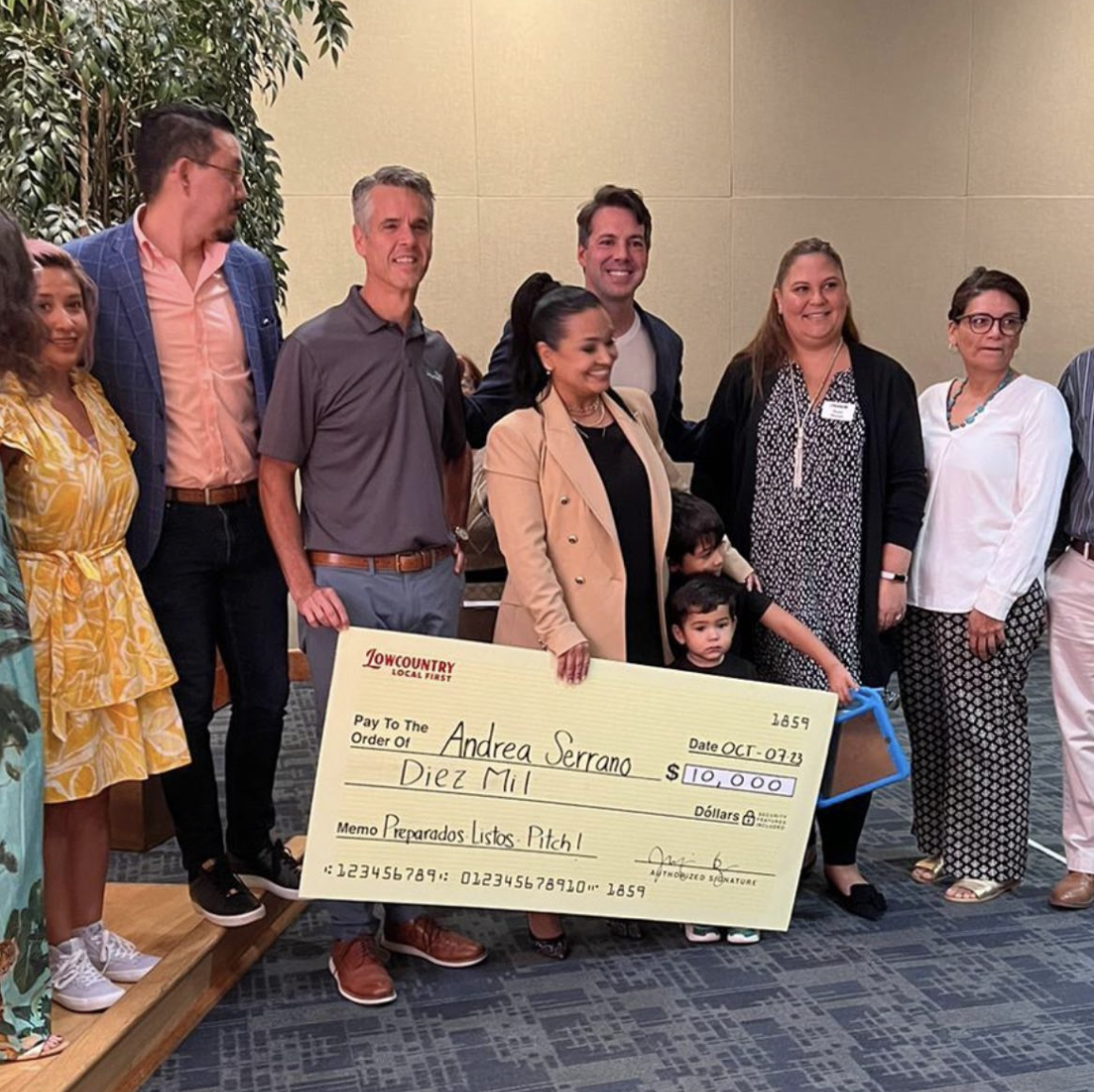 "Lowcountry Local First believes that entrepreneurship is a powerful engine for community change and is committed to seeing these new businesses receive the attention and investment they deserve," said Lowcountry Local First Executive Director, Jacquie Berger. "By hosting a pitch event, our aim is to place the spotlight on a community of exceptional, but traditionally overlooked entrepreneurs. This event provides one-on-one expert coaching, a valuable experience, and a platform from which to shine."

"The entrepreneurial spirit shines in the Hispanic community," said Charlie O'Brien, Director of Client Experience & Success at CLIMB Fund, the presenting partner of the 2023 Ready Set Pitch! contest. "It is our honor to partner with Lowcountry Local First to spotlight these emerging businesses and help make their dreams a reality. We look forward to working with the Community Business Academy graduates, and underserved communities across South Carolina, to provide access to capital that would not otherwise exist."
Good Enterprises is a catalyst for reshaping the region's entrepreneurial ecosystem to one that provides equitable opportunity for business ownership, in order to transform lives and communities. Good Enterprises implements the curriculum and award-winning business-simulation model created by the Rising Tide Capital program based in New Jersey which serves more than 600 entrepreneurs per year, with an 87% survival rate beyond the five-year mark.
Aspiring entrepreneurs from across the Lowcountry are encouraged to apply now to join the 2024 Spring Community Business Academy which launches in February and will offer classes taught in both Spanish and English. Scholarships are available and all experience levels are welcome to apply for this program. Those interested should complete a program inquiry form online at goodenterprises.org.

"Ready, Set, Pitch" sponsors included: CLIMB Fund, South Carolina Community Local Fund, South Carolina SBDC, Pinnacle Financial Partners, Rising Tide Capital, Norsan Media

---

Lowcountry Local First, una organización sin fines de lucro centrada en el desarrollo económico basado en la propiedad local, llevó a cabo su segundo evento anual "¡Preparados,Listos, Pitch!" el 7 de octubre de 2023 para otorgar un premio en efectivo de $10,000 a un empresario local. Los graduados de la Academia Comunitaria de Negocios, un programa de 12 semanas enseñado en español, tuvieron la oportunidad de presentarse al concurso en agosto, enviando videos y presentaciones a un comité externo de revisión. Los cinco empresarios finalistas recibieron asesoramiento privado uno a uno, con Marco A. Ríos del Centro de Desarrollo de Pequeñas Empresas de Carolina del Sur (SC SBDC). Los finalistas participaron en un evento de presentación en vivo presentado por Paola Paz, locutora de radio en Latina 95.5FM, en la Biblioteca Principal del Condado de Charleston, frente a familiares, amigos y un panel de jueces.
Los cinco empresarios competidores finalistas fueron:
- Andrea Serrano, Glossy Jewellery
- Corina Costa, Corina Costa Beauty Studio
- Marielyn Oliver, Mari Oliver Realtor
- Mario Broggi, Elena's Empanadas & Pastas
- Yugeily Prieto, Amelie Jewelry
El premio principal de $10,000 del evento "¡Listos, Preparados, Presenta!" de 2023 se otorgó a Andrea Serrano de Glossy Jewellery. Glossy Jewellery es una empresa familiar que ofrece joyería moderna, elegante y personalizada. El premio financiero se utilizará para expandir gradualmente el negocio, permitiendo a Andrea explorar nuevas oportunidades mayoristas.En sus palabras después de recibir el premio, Andrea dedicó este honor a su familia, incluyendo a dos parientes que fallecieron este año, subrayando cuánto este premio brindaría el estímulo necesario en estos tiempos desafiantes.
"Lowcountry Local First sostiene firmemente que el emprendimiento es una poderosa fuerza para impulsar el cambio en nuestra comunidad y se compromete a garantizar que estos nuevos negocios reciban la atención y la inversión que merecen", afirmó Jacquie Berger, Directora Ejecutiva de Lowcountry Local First. "Mediante la organización de un evento de presentaciones Pitch, nuestra meta es destacar a una comunidad de empresarios excepcionales que a menudo pasan desapercibidos. Este evento ofrece orientación individual de expertos, una valiosa experiencia y una plataforma desde la cual se pueda destacar".
"El espíritu emprendedor brilla en la comunidad hispana", dijo Charlie O'Brien, Director de Experiencia y Éxito del Cliente en CLIMB Fund, el socio presentador del concurso "¡Preparados,Listos, Pitch!" de 2023. "Es un honor asociarnos con Lowcountry Local First para destacar estos negocios emergentes y ayudar a hacer realidad sus sueños. Esperamos trabajar con los graduados de la Academia de Negocios Comunitarios y las comunidades desatendidas de Carolina del Sur para brindar acceso a capital que de otro modo no existiría".
Good Enterprises es un catalizador para remodelar el ecosistema empresarial de la región y proporcionar oportunidades equitativas para la propiedad de negocios, con el objetivo de transformar vidas y comunidades. Good Enterprises implementa el currículo y el exitoso modelo de simulación empresarial creado por el programa Rising Tide Capital con sede en Nueva Jersey, que atiende a más de 600 empresarios al año, con una tasa de supervivencia del 87% más allá del quinto año.
Se alienta a los aspirantes a empresarios de todo el Lowcountry a inscribirse en la Academia de Negocios Comunitarios de Primavera de 2024, que comienza en febrero y ofrece clases en español e inglés. Hay becas disponibles y se aceptan solicitudes de personas de todos los niveles de experiencia. Los interesados deben completar un formulario de interés en el programa, el cual pueden encontrar en línea vía : goodenterprises.org.
Los patrocinadores de "¡Preparados,Listos, Pitch!" incluyeron a: CLIMB Fund, Fondo Local de la Comunidad de Carolina del Sur, SC SBDC, Pinnacle Financial Partners, Rising Tide Capital, Norsan Media.