Eat Drink Local Month to shine light on local food, beverage businesses
Date posted
April 13, 2023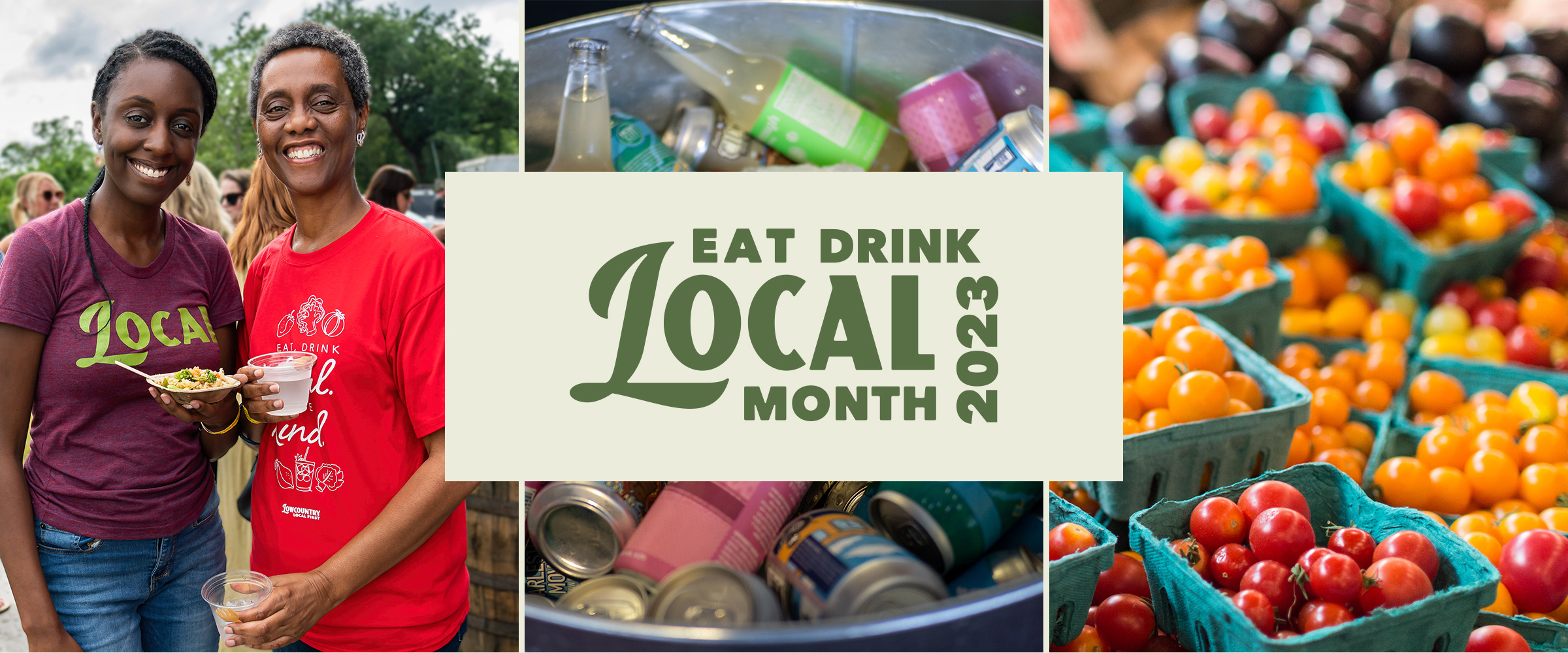 Lowcountry Local First will host its 12th annual Eat Drink Local Month campaign throughout May 2023. The campaign will include a public Eat Drink Local Challenge, a Local Social and its 15th annual Chef's Potluck fundraiser event. Presented by Limehouse Produce, Eat Drink Local Month is an initiative to raise awareness of the positive community benefits of supporting Lowcountry farms, fishers, chefs, beverage producers and purveyors. Throughout the campaign, LLF will provide educational opportunities and events for the community to actively engage in eating what is ripe and in season:
Eat Drink Local Challenge: May 1 - 31 – Commit to shifting a minimum of $10 of weekly food spending toward local food and beverage sources. Sign up now as an individual or team and be provided with weekly resources such as market calendars, local recipes, community-supported agriculture opportunities, and more ways to make the shift to local easy and fun. Free to participate.
May Local Social: May 11 – This happy hour networking event hosted at Baker & Brewer is available to the organization's current or interested local business members and employees.
15th annual Chef's Potluck: Sun, May 21 – The organization's largest fundraiser event, with 18+ local chefs, local beverage providers, live music, and the beautiful views surrounding the Porter Room at Holy City Brewery in North Charleston. Tickets are all-inclusive and on sale now. Early bird ticket prices last until April 21.
"This year, we are thrilled to promote the Lowcountry's unique flavors, ingredients and stories during Eat Drink Local Month," said Jordan Amaker, the organization's campaign organizer. "We are here to connect the community to the local businesses that make up our vibrant food and beverage community. During the last few years, this industry has faced many challenges and we are committed to supporting and connecting for the betterment of our local food system."
The 2023 Eat Drink Local Season is presented by Limehouse Produce and sponsored by the South Carolina Department of Agriculture, Steen Enterprises, Holy City Brewery, The Porter Room, The Local Palate, MUSC Health, MUSC Urban Farm, Central Park Accounting, Grassroots Wine, High Wire Distilling, Firefly Distilling, and Lowcountry Street Grocery.