Good Enterprises Initiative hosts inaugural "Ready, Set, Pitch!" event
Date posted
December 6, 2022
Lowcountry Local First (LLF), a nonprofit focused on economic development centered around local-ownership, hosted its inaugural "Ready, Set, Pitch!" competition on December 3, 2022 to award cash and in-kind prizes to five local entrepreneurs. Nearly 200 graduates of the organization's 12-week Community Business Academy (CBA) were invited to apply to the competition in September, submitting videos and pitch decks to an outside review committee. The top five entrepreneurs then received private, one-on-one coaching from local business leader and philanthropist Herbert Drayton III (Vertical Holdings, HI Mark Capital). The finalists participated in a live pitch event at Cannon Street Arts Center in front of family, friends and a panel of judges.
The top five competing entrepreneurs included:
– Rashaunda Grant, Carolina Cookery
– Kristine Luke, Park Pets
– Christina Miller, Bert & T's Desserts
– Kimberly Nesmith, Kakes by Kim
– Chinenyem Nwadiugwu, She Biology
The 2022 Ready, Set, Pitch! $10,000 grand prize was awarded to Christina Miller to help her grow Bert & T's Desserts, a Charleston, South Carolina-based bakery and creamery specializing in old-fashioned southern and Gullah desserts and small-batch, handcrafted ice creams. The business currently offers online ordering and can be found at various local markets. The funding received will help Christina reach her goal of purchasing a food truck to further mobilize and grow her business.
"Lowcountry Local First believes that entrepreneurship is a powerful engine for community change and is committed to seeing these new businesses receive the attention and investment they deserve," said Good Enterprises' Program Director, Raquel Padgett. "This pitch event gave CBA graduates the opportunity to share their stories and vision, with a panel of judges selecting one talented and driven individual to receive meaningful help take their business to the next level."
"South Carolina Community Loan Fund [SCCLF] is excited to partner with Lowcountry Local First in support of this event and the opportunity to showcase small business owners and aspiring entrepreneurs across the area. An important part of our mission is geared towards providing access to capital and financing projects and small businesses that build healthy resilient South Carolina communities", said Deborah McKetty, SCCLF President. "By investing in events such as this, we can realize those efforts and see first-hand the positive impact on the lives of these entrepreneurs, small business development and the community at large."
Good Enterprises is a catalyst for reshaping the region's entrepreneurial ecosystem to one that provides equitable opportunity for business ownership, in order to transform lives and communities. Three program phases walk current and aspiring entrepreneurs through a Community Business Academy, followed by a year-round suite of tailored Business Acceleration Services, and an optional Credit to Capital program when graduates are ready to pursue financial or investment opportunities. Good Enterprises implements the curriculum and award-winning business-simulation model created by the Rising Tide Capital program based in New Jersey which serves more than 600 entrepreneurs per year, with an 87% survival rate beyond the five-year mark.
Aspiring entrepreneurs from across the community are encouraged to apply now to join the 2023 Spring Community Business Academy which launches in February and includes classes taught in both Spanish and English. Scholarships are available and all experience levels are welcome to apply for this program. Those interested should complete a program inquiry form online at goodenterprises.org. To learn more, contact Raquel Padgett at Raquel@lowcountrylocalfirst.org or by calling 843-212-6298.
"Ready, Set, Pitch" sponsors included: South Carolina Community Local Fund, Cummins, Kathy Salmanowitz, Natural Investments, Charles McLendon, First Horizon, The Climb Fund, Queen Street Playhouse, Cannon St Arts Center. This event was also supported by partnerships with Rising Tide Capital and HI Mark Capital.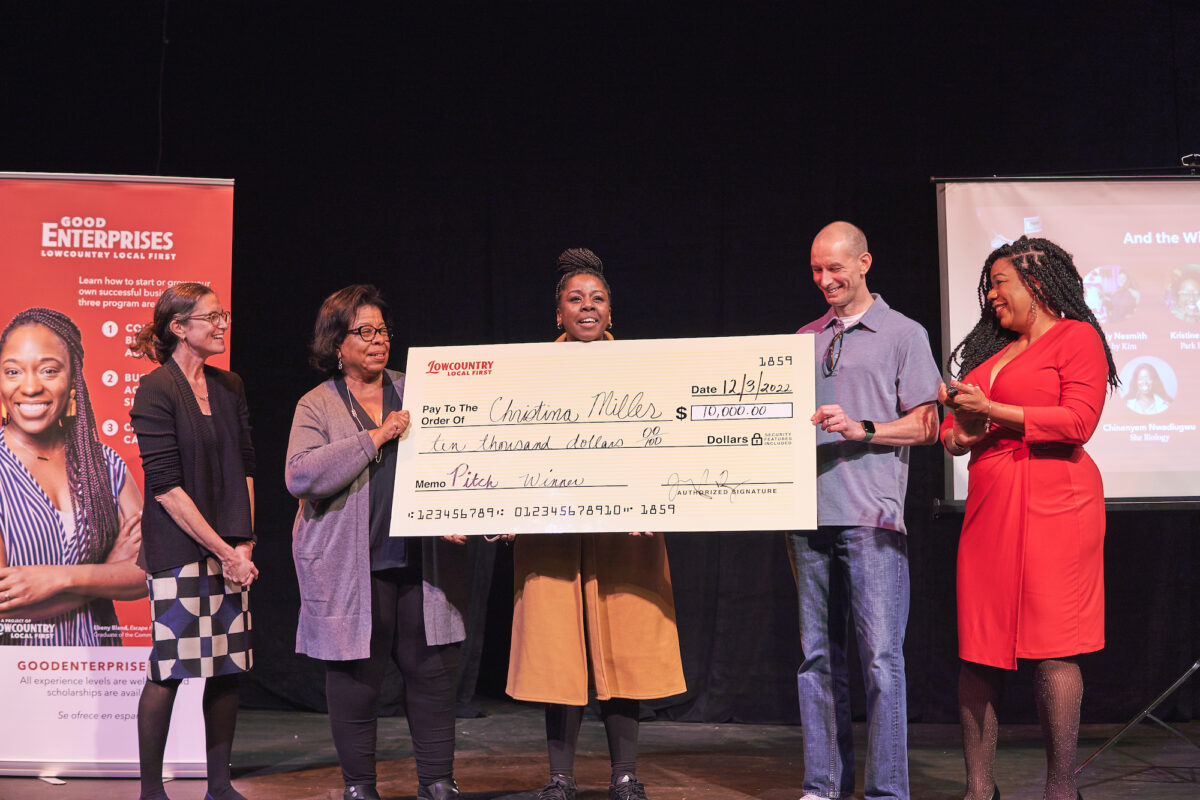 Pictured, left to right: Jacquie Berger (Lowcountry Local First – Executive Director), Deborah McKetty (SC Community Loan Fund – supporting partner and judge), Christina Miller (winning entrepreneur), Andy Kelly (Cummins – supporting partner and judge), Raquel Padgett (Lowcountry Local First – Good Enterprises Program Director)