Recipe: Spring Salad with Herbed Goat Cheese and Pickled Beets APR 29, 2022
Date posted
April 29, 2022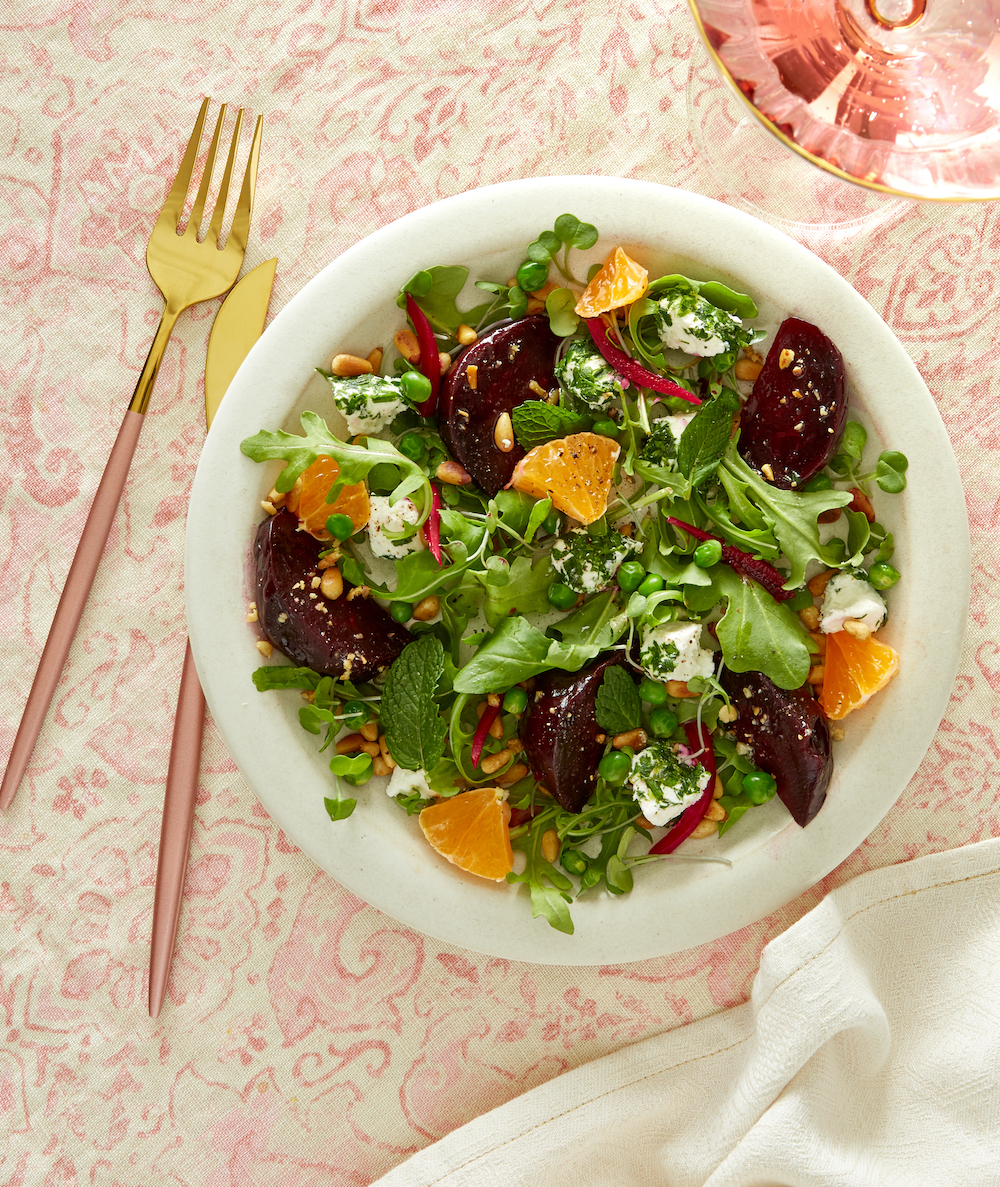 This recipe was provided by Edible Charleston, an Eat Drink Local Month supporter. Photo by Shell Royster. Recipe developed by Josh Miller.
Serves 4
Let the farmers' market be your guide when it comes to assembling this fresh spring salad. Pickled beets and red onions provide a tangy, earthy bite, balanced by the creamy goat cheese and peppery arugula. If you make this salad, be sure to post a photo and tag #EatDrinkLocalCHS so we can share!
For the Dressing:
– ½ cup local extra-virgin olive oil
– ¼ cup lemon juice
– ¼ cup aged sherry vinegar
– 1 tablespoon local honey
– 2 teaspoons Dijon mustard
– 1 teaspoon local sea salt
– ½ teaspoon freshly ground black pepper
For the Salad:
– 4 to 6 cups locally-grown arugula
– 2 cups Quick-Pickled Beets and Red Onions (see recipe below)
– 3 tangerines or mandarin oranges, peeled and sliced
– 1 (4-oz.) log of local goat cheese
– ½ cup chopped mixed herbs, such as parsley, thyme, and dill (local!)
– 1 cup blanched spring peas, cooled
– 1 cup microgreens (optional, and local!)
– Toasted pine nuts and fresh mint, for garnish
In a small jar, combine all ingredients for the dressing; seal jar, shake vigorously to combine. Set aside.
Divide arugula, beets and onions, and tangerine slices evenly among 4 salad plates. Roll goat cheese in herbs; tear into pieces, and divide among plates.
Sprinkle peas, microgreens, pine nuts, and mint over salads. Drizzle with desired of dressing just before serving.
Quick-Pickled Beets and Red Onions
Cut 12 ounces of roasted beets into small wedges; cut 4 ounces of red onion into thin slices. In a 4-cup glass measuring cup, add beets and onion slices. Add 7 ounces of white or apple cider vinegar to halfway full; add 7 ounces of water to cover. Add 1 tablespoon honey or sugar and 2 teaspoons kosher salt. Microwave on high until steaming, about 4 minutes. Let cool. Refrigerate in a sealed container up to 1 week.
—